DirecTV® has the biggest selection around! Over 55 pay-per-movie channels plus all the premium movie channels, plus regional sports networks, national sports networks, local networks and eight sports subscription packages. More then 200 channels are available. DIRECTV also offers a receiver featuring the TiVo personal TV system, which automatically records all your favorite shows (even while you're watching) allowing for pausing, instant playback and rewinding. DIRECTV also beams down two HDTV channels, so those with the new high-definition sets can get pictures almost 3D in clarity. With massive sports programming, hundreds of movies each day plus all the standard cable programming and then some, DIRECTV offers its viewers more than 250 channels. Currently LHR only carries the basic Silver systems from Hughes, RCA and Sony which provide nearly 300 channels of video and audio programming.

18" Steel Dish, IRD with Turbo Video Accelerator, Remote Control. Instant Access Program Information (i.e., Program Cast, Plot, Length, etc.). 90-day warranty labor IRD; 1-year warranty parts IRD, 1-year warranty parts and labor dish, 90-day warranty parts and labor remote control


The RCA Satellite System featuring DIRECTV (programming sold separately) is the original 18" mini-dish that has revolutionized the entertainment choices of millions of Americans. It's a great way to bring the power of digital quality picture and sound into your home today.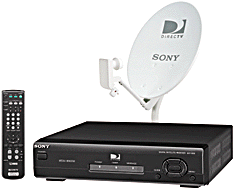 You live in the real world... A world of work... of play... of travel... Sony adds life to your world, whether you're: At Home... At Work... On the Road... On the Go... Your world... Your Sony.