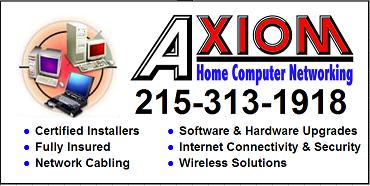 Sick of playing Internet tag with other family members wanting to get online and tying up phone lines? With so many advances in technology itís becoming more common to see multiple computers in the same home or home office. Complete home network design, installation, or upgrade. Having your own home network has never been a better value. We can help with your entire home networking solutions.



We are fully insured and rely on quality brand-name devices and reputable manufacturers to supply the products we install. We also offer Flat Rates for routine installations of Cat5, phone, stereo and cable outlets
Cable Modems & DSL
When you get a Cable Modem or DSL connection, you may run into a problem: Everyone in your house will want to use it. And so to preserve domestic harmony, you'd be wise to connect, or "network," all your home's computers. Why? So that everyone can connect to your new broadband connection at the same time. The process isn't without headaches, but the payoff is worth it.
Home/Office Networking: Benefits
Until recently, home-networking approaches -- patchwork solutions at best -- were riddled with bugs and expensive. They also required new wiring and a Ph.D. in networking. Things, however, have changed. Today's home-computer users can choose from several relatively inexpensive options to create reliable, cohesive networks that deliver several benefits:
| | |
| --- | --- |
| | Household members can access the Internet at the same time using one Internet service provider (ISP) account. |
| | Each household member can share the same printers, modems and peripherals from any computer in the house. |
| | Kids can play video games against each other, as well as with other out-of-the-house online users, on the Internet. |
| | Cable modem and Digital Subscriber Line (DSL) connections not only deliver the fastest Internet links, but let household members talk on the phone while they're online. |
To get started with basic home networking, you must physically connect your computers, and then give those computers access to the Internet through a cable or DSL modem. There are several ways to connect computers:
| | |
| --- | --- |
| | Ethernet, which is the most widely used networking technology. |
| | Universal Serial Bus, which is easier to use than Ethernet if your computers already have USB ports. |
| | Home Phone Line Networking (HPN), which is useful for connecting computers scattered throughout the house. |
| | Wireless networking products, which are attractive if you want to surf the Web from any room in the house using a laptop. |
| | Power-line home-networking products connect devices using power outlets in your home. |

What can I connect to a home network?
Your computer and any peripherals you'd like to share, like a printer or scanner. Home networking also can be used to connect your stereo, burglar alarm, lights and other appliances. More networkable products are being introduced every month.
Who will connect my computers together?
Axiom Networking is the solution. Increase your speed and productivity with the convenience of a smoothly running computer network. We can install either a wired system in your home or set-up a wireless network for more freedom.